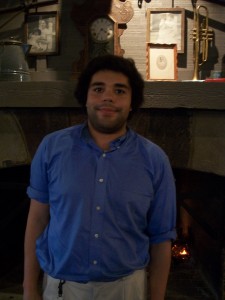 Andre is originally from Baltimore, MD. He and his mother moved to the Martinsburg area 6 years ago. He has one brother, Chris, and a loving dog named "Egypt". Prior to coming to Daily Companions, Inc. Andre would just hang out at home, read books, exercise and occasionally go to the Public Library to look up things on the internet. Finding a job for him was difficult as he has Autism, had not graduated from High School, nor did he have his GED. He also had no transportation. Andre's family felt he never received the help he needed in the school system. "There were too many students with IEP's, and not enough teachers to give Andre the guidance he needed to succeed in school, or prepare him after graduation" states his mother, Heather. Andre was referred to Daily Companions, Inc. by Stephen Brady of DHHR for the Customized Employment Grant Program, and in June of 2015, Andre's journey began.
After his initial meeting with the staff from Daily Companions, Inc. Andre began the "Discovery" process. During this time, Andre and his Customized Employment Specialist discussed his job desires, means of transportation, and any specific accommodations and/or support he felt he needed to succeed in a job setting. Not graduating from High School was an obstacle to many potential employers, as was his never being previously employed as a result. However, once someone met Andre, they saw he was a bright, enthusiastic young man, and encouraged him to apply with them. Andre enjoys the outdoors, and self-taught many of the skills he has through his research at the Library. Having a supportive family helps him with his good social skills in being polite, friendly, and willing to help others-qualities some potential employers recognized immediately in Andre.
Another obstacle was transportation. Andre does not drive, and he has never used public transportation before. Thus, Andre and his Employment Specialist discussed various potential work sites and then mapped out the bus routes to plan how he would get from his home to each work location by bus. With help from the Eastern Panhandle Transit Authority (EPTA), Andre and his Employment Specialist practiced boarding the required bus, transferring as necessary, and riding the complete route. This activity was completed over several days, one route a day, taking note of other potential job opportunities on each route. Andre also took note of where he would need to catch each bus, times each bus ran, how to recognize each bus, where to transfer if need be, and where to get off each bus. The drivers on each route were accommodating and eager to help Andre feel more confident in his ability to ride the bus on his own. They answered many questions and never made Andre feel like he was distracting them. The drivers also informed him of the half-fare program for individuals like himself, in which he would only pay half the normal fee with a designated card issued each month. Other transportation options were explored, however, the bus was the most economical and reliable means for Andre if he needed a ride to work. Fortunately for Andre, he has individuals in his life who are happy to help him get to work when they can.
Once Andre felt confident in his ability to get to work, it was time to put his hard work to the test. Andre began doing "Job Discovery" with his Employment Specialist. This process allowed Andre to get unpaid, yet necessary, job experience in a variety of locations and skills. These jobs tested Andre's abilities to follow directions, learn and retain new skills, improve social skills, and understand the concepts of work expectations for each location. Like any job, he needed to be there on time, complete assigned tasks and be accountable for his area. Never having worked before, this was difficult in the beginning, and at times, Andre felt it was "too Hard." But he is a proud young man and continued to try his best. Through these opportunities to gain work experience, Andre was encouraged by site staff to apply at Walmart, Target, Gabe's, and Food Lion.
During this same time, an opportunity for employment came up at Cracker Barrel in the dish room. Andre had not done this type of work before but was willing to apply and learn. He applied, was interviewed, and on August 31, 2015, was happily hired. Andre did well in orientation. He struggled to complete his online testing of workplace policies, but with accommodation by Cracker Barrel Management to allow guidance and verbal explanation by his Employment Specialist, Andre passed all of his exams. He studied "The Cracker Barrel Mission Statement", "Safety in the Work Place", "Fire and First Aid Procedures", "Understanding Culture & Diverse Populations", and "Conflict Resolution in the Workplace", to name a few. Andre then completed his "on the job training", and was later on his own to apply all he'd learned out on the floor.
Since being hired, Andre has done very well according to his Cracker Barrel Staff. He is reliable, friendly, and adapts to any task given. Andre is willing to help everyone and does all that's asked of him and more. When the staff was asked what they like most about Andre, his trainer Jessica stated: "He's adorable, everyone loves him." One of his managers, Jennifer B., stated: "He's phenomenal!". Every visit his Employment Specialist has had with Andre at work has ended with someone saying they like working with Andre. He has already gone from a "Rising Star" to a "Par 1" in Cracker Barrel's 4 STAR Recognition Program, thus earning his first raise. Andre has become proficient at his job and is proud to have earned his first STAR. He is anxious to learn more in his job so that he can reach the next level-PAR 2. When discussing his job satisfaction today, Andre was asked:
What is the best thing about working at your job?
"They give me the opportunity to work and are all very friendly."
What is the hardest part of your job? "Scrubbing the pans…you need serious elbow grease."
"Scrubbing the pans…you need serious elbow grease."
What is the easiest?
"Doing the takeout and loading the dishes."
Where do you see yourself a year from now?
"Maybe still washing dishes…hopefully janitoring."
If you could change anything about your job, what would it be?
"I don't know…I never thought about changing it".
Andre has been a shining example putting his disability behind him and show others his Reliable-ity, Sociable-ity, Capable-ity, and overall Possible-ity. He put his mind to being successfully employed and hasn't looked back. Andre states "Everyone should be able to work if they want to, no matter what they need help doing" and "Everything is possible if you want it bad enough." Does Andre ever complain? Yes, like the rest of us…when he has to pay taxes. But he says that's what "Normal" people do.