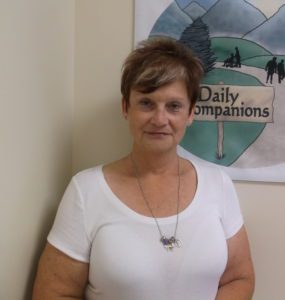 I am Pamela Hansen, the new Front desk Facilitator for Daily Companions, Inc.  Having a nephew with special needs has allowed me the opportunity to live my life's passion, which is working with Adults and Children with special needs.  I knew that DCI was the work place for me when I read the saying "Don't tell me what I can't do, let me show you what I can do".  Little did I know that Arty Smith was the brother of our CEO and this was his saying.
I have been fortunate to spend 27 years traveling the world and making a difference with military families and their children.  I worked for the federal government in the Child Development Service, and Child Development Center as an advocate for Adults and Children with special needs, first as a caregiver and then became a room lead.  I was afforded the great opportunity to live both in Alaska and Germany.  Alaska was where the doors opened for me to live my life's passion as a room lead.  I was responsible for lesson plans, planning field trips, nutritional needs, as well as developmental growth, physical growth, and social skills for adults and children.  This was by far my most rewarding job.
A move to Texas afforded me the opportunity to receive a degree as a paralegal and my CDA Certificate.  I then spent 15 years with CDS.  In Fort Worth, I was a supervisor at Navy Lodge and then moved forward as a federal employee for the DECA.
I was raised in Sharpsburg, Maryland and now reside in West Virginia to be near family.