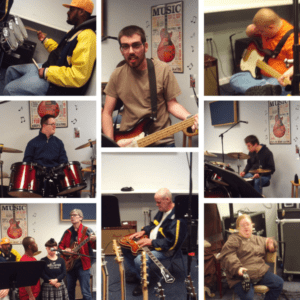 Most of us harbor a secret dream, to wow audiences with our musical ability either through singing or playing an instrument.  Who of us does not wail out songs in the shower, play that "air" guitar, or unconsciously tap, hum, or sing along to music?  (You've done it, jamming" in the car,  and suddenly you realize that everyone around you is watching?  Um hmm, me too!)  Music is an integral part of all our lives.  Music is used to help those that suffer from pain, to ease emotions, to excite, to transport us away from the everyday.  What a sad, dismal world it would be without music.
DCI Members enjoy music immensely.  Whether it is singing along to the radio, dancing, or playing an instrument, music is a prominent part of their lives.  Thanks to Kat Hagedorn, Service Coordinator, and Ms. Cloughfeather, CEO, Daily Companions has teamed up with Kimmon Waldruff of "The Rock Room" in Winchester for music exploration.
Kimmon has been involved in music since, well, forever!  In his high school days, he would team up with different friends that were budding musicians, pool their knowledge, hone their skills, and just have a rocking good time!  Later he played professionally, traveling and being immersed in the world of music.  Now he, as a music teacher, is excited about sharing that same sort of passion with DCI Members.
When asked about his music sessions with DCI Members, Kimmon answered enthusiastically.   "That passion for music really sustains a person all through their life.  The give and take, sharing what you know with others and learning from them is priceless.  I love that DCI Members are so open and expressive with music.  They are not afraid to take chances, they will just jump in and try any instrument, sing along, and let the experience just carry them away.  This experience has given me back all those feelings I had in high school, the thrill, the joy, the cohesiveness of experiencing music".
Ms. Cloughfeather would like to extend an invitation to any Waiver Member that is interested in joining Daily Companion's Fun Monday Community Day to call our office Monday through Friday, between the hours of 8am and 4pm for more information.