Christian started with Daily Companions, Inc. in November of 2016. At that time, he was employed. However, Chris was not getting hours at his job due to being hired for "on call" status. He retained this position while trying to find a supplemental job. Since he was not called once to cover for a coworker in a three-month period, his supplemental job search became a search for a new position.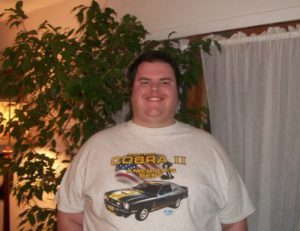 During Christian's search, many skills and interests were discovered and thus further explored. His "dream" job is to be employed by the Rail Road someday. He loves trains, and his mechanical knowledge of them is impressive. Thus, a job in mechanics was sought. Several months after coming to DCI, Christian was hired at an automotive garage. He was happy to be doing mechanical work. Due to the volume of business, speed required to complete service requests, and strict attention to detail, Christian struggled. He did not have a manager willing to start him out slow or accommodate his skills. It was "get it right and get 'em out of the gate". So once again, Christian again found himself searching for a new job. He struggled, but never gave up. One of the biggest struggles for Christian was being able to believe in himself. He had found the job he wanted in mechanics, but it just was not a good fit for him. Chris began searching once again with Daily Companions by his side.
After several attempts to find a job, Christian took a leap of faith and applied for a "Seasonal" position with Fed Ex. Though he was not sure he could handle the speed of the job and was worried about the physicality of the position, he went ahead and applied anyway. In November he was hired. He began a new journey, found a new set of skills, made new friends, and has not looked back. Most importantly, Christian now has coworkers and Supervisors willing to help him succeed. He is no longer a "Seasonal" employee, he is permanent. Christian is proof positive that hard work and patience DOES pay off!
Daily Companions spoke to Christian and his family about his journey. His mother states "the biggest change I have noticed in Christian is he is establishing a strong work ethic, draws strength knowing he is not alone and has become more conscious of his reliance and dependability in the workplace." She further notes "his supervisors at Fed Ex have been diligent with him, understanding Chris' special needs in understanding the requirements and goals of their employees. Chris has become dedicated to doing the best job he can."
Christian's sister feels "he has become a better role model for me and for others with disabilities." His father is pleased with Christian's new-found work ethic. Christian states "the best part of working at Fed Ex is the good pay, especially during "peak time." He enjoys his positions, his hours, and his coworkers.
When asked how Daily Companions has helped him become employed, Christian responded, "by coming and giving me motivation." Christian has received additional support by following up with him on the job to address concerns and to motivate him further when he does something well. He feels it helps him do a better job and he really appreciates that. Christian also states he has received additional support through Resume' evaluation and marketing, interview skills, considering other jobs, and helping him to meet a lot of people.
Finally, Christian was asked "How do you think the services you've received through the Customized Employment Grant at Daily Companions Inc. can help others? Christian responded he feels the staff were very helpful, especially if someone doesn't know where to start. He states he believes DCI "can help anyone get started in a job opportunity, especially if they're on the Autism Spectrum or something else". He also states staff can "steer people toward what they may be good at, and also get better educated in the field they are interested in.   The staff goes to the place where the interview is, makes sure everything is ok and helps make sure the participant is on time".