Cathy Lee Irizarry-Barron, Customized Employment Grant Specialist, represented Daily Companions, Inc. at the Berkeley County Transition Summit.  This summit was set up by Berkeley County Schools to offer students an opportunity to meet agencies who will be able to provide help in transitioning from High School to either College or into the work force.
Cathy was able to give families an overview of Daily Companions, Inc. and the services we offer, such as our Day Program, Service Coordination, Supported Employment, and the Customized Employment Grant Program, which is exclusive to DCI.  Daily Companions is also the only agency in the Eastern Panhandle of WV that has on staff a nationally Certified Employment Support Professional (CESP).
DCI takes great pride in learning who the individuals we serve are, what is their interest in job (career) seeking, and help plan to get them to their goal of inclusive employment.  DCI wants their consumers to believe they can have a career, not just a job.  Parents and students were made aware this may mean going directly into the work force and finding "discovery" jobs which will enable them to narrow down what career they want to pursue.  Going to college later to enhance their knowledge of the job is an option, once they have determined their career.  Cathy was happy to point out that several business's offer scholarships, tuition reimbursement, and other incentives for their employees to grasp their future.
When asked how she felt about participating in this transition summit Cathy stated "this was an opportunity for both parents and students to seek guidance, become more informed about after graduation options, and ultimately, to have more hope in their future.  Daily Companions, Inc. was pleased to be a part of this transition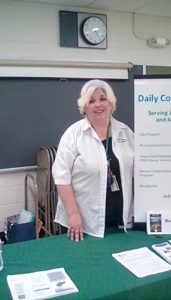 ".